Description
This special incense blend is inspired by the "dog days" – the long hot days of summer. It is made mainly from baneful herbs gathered from my own garden and surroundings. The black sacra frankincense from Oman lends the blend a deep resinous, almost medicinal aroma. This incense blend is in a way, a true "fuck off" blend and an answer to other people's negativity. It does not smell nice or pleasant, rather bitter – like a bitter medicine. Yet it has something addictive about it; think of the smell of on a fresh oil painting or the scent in an artist's atelier.
Btw. the incense blend can be used during any time of the year, not only during the actual dog days. The rare herbs contained therein carry baneful as well as empowering properties, and can be applied in various contexts, e.g. also for referencing the first dead in ritual. It is thus an incense for Abel and the able.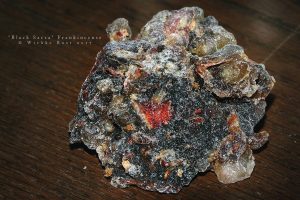 I made ca. 1,5 liter. When it's sold out it will not be available again until the coming year.
Uses: banishing, exorcism, counter-magic, self-empowerment
Contains: bittersweet nightshade, black henbane, black nightshade, mandrake root and leaf, spear thistle, thornapple, wolfsbane, wormwood, black sacra frankincense, dark myrrh resin
Scent: bitter, tart, resinous
Warning: Contains several venific herbs. Not for beginners.