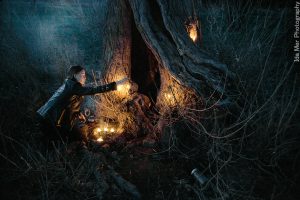 I am a self-employed artist, born and living in Germany. Teufelskunst is my blog and web shop, where I write about and sell my occult art. Teufelskunst was founded in 2009. The official website went online in 2012. August 2017 finally saw the launch of the official Teufelskunst web shop.
All art on this page has been created by me, unless stated otherwise.
Philosophy and purpose
The Teufelskunst website offers a supply for practitioners of ritual magic of various backgrounds. At the same time its goal is to educate and act as an information resource on occultism and herbalism and offers advice on these topics. Thirdly it aims to promote art and other artist's work. Teufelskunst customers value tradition, but they are not stuck in the past. The goal is to combine the benefits of established tradition with modern working surroundings and life styles.
Contact e-mail for all inquiries: info@teufelskunst.com