Interview
CM VÆNVS OBSCVRA
Artist & Occultist
First Part
I have gotten in touch with CM about a year ago and since then we have been talking randomly in messages exchanged via Facebook, traded art-prints for seeds and lastly figured it would be time for an interview.
In our conversation beside the art two topics are of major concern to him: one are his plants and the other his cat. Whereby the cat is of the greatest importance and he often expresses the fear his cat could suffer accidental poisoning via the venific green. So there we have the first of a row of conflicts my interview-partner has to deal with. But let us start with the most important thing first…
XA: How is your cat doing?
CM: Hi! A good question to start with! The cat is doing fine, thank you! Well, first of all, it's not only my cat, it's my girlfriend's cat. It became mine also after I moved in at her place. Cats do what they do best and that is living their lives to the maximum, living off us while having fun. I think that the cat is the perfect animal. I wish my human condition could be replaced by the cat condition.
I don't worry about her anymore, concerning the plants. Some of the poisonous plants grew already and she's not interested. I was just freaked out when I saw her nibbling Cayenne leaves and such but now, after she has her pot with fresh sprouted wheat and other grains, the problem is solved.
XA: And how are your plants doing?
CM: The plants are doing well, most of them. I'm happy that the Yauhtli sprouted and that I got rid of those damn mites and the fungus. They were destroying my roses and the mint. After treating them, they recovered.
Some of them though, were not so fortunate. Because I had no experience with plant diseases and pests, I lost my Daturas to the mites. Luckily, I have a backup and that is all the different variety of Datura seeds from TEUFELSKUNST. Then, after getting rid of this problem, I over-watered them and the roots rotted away. I guess you learn much from plants. Not only as a matter of Biology and wortcunning but they can be a good analogy for the situations you deal with in life. You must learn when to sow the seeds at the right time. Too much water or too little can ruin your harvest. And speaking of harvest, one must always gather it's fruits. That's the purpose, isn't it?
I'm currently gathering my small harvest from the balcony. Sage, lemon-balm, mint, hot chili peppers, et cetera. The tobacco seems to be late. This stresses me a bit.
XA: I have to agree there and am glad to hear. Now, would you also tell me how you are doing these days? I mean since you temporarily deleted your Facebook from one day to another and declared your art history… what happened?
CM: I just got sick and tired of this whole Facebook business. All these social networks and this internet life are so useless most of the time. I believe that internet must be used for communication and exchanging ideas, thoughts, music, artwork and alike with people that matter to you or to be updated on certain things you are interested in, in my case arts and music. And especially with Facebook, most of the things there are bullshit. 90% of it is bullshit. And this bullshit is wasting my time. I reactivated my account soon after that because it's a good way to promote my work. MySpace was a lot better back then.
That was Facebook. And about the blogs, well, after a long period of stagnation, especially with HATRED ENGINE GRAPHICS, I just got mad. HATRED ENGINE GRAPHICS is my other artistic project that is dealing with Metal and Punk themes but in the same time dealing with rip-offs and a bunch of assholes. And wanting to save my sanity I decided to stop these artistic manifestations. To stop them, not destroy them. This was a temporary decision. Both HATRED ENGINE GRAPICS and VÆNVS OBSCVRA are alive and well.
XA: But are you not an artsy-fartsy drama-queen?
CM: Artsy-fartsy? No, not at all. I rarely see myself as an artistic person whatsoever, let alone artsy-farsty. It happens rarely when I get caught up discussing about art with a handful of people. I am still studying for my Masters Degree so I am unfortunately in contact with a lot of fartsy people that I hate so much. They are only fartsy and less artsy.
Drama-queen? I am the Drama King! So much hate and anger. That's how I am. It's all fueled by external factors, such as artsy-fartsy people. Don't get me wrong here. I have nothing against people who are eccentric or whatever they want to be. Everybody is allowed to do whatever they want but after bumping into the fartsy people I talk about, you would want to stone them to death also.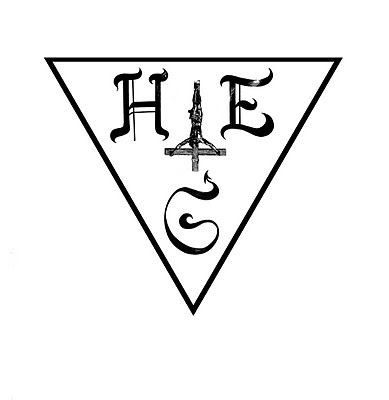 XA: Well, but lets us rather talk about your art now. Why do you do art? Who inspires you?
CM: Wow! This is a tough question. Why do I do art? I don't know if I can answer this question, not that I don't want to but I don't think I can. Maybe you will find the answers to this one in the same answer I will give you about who inspires me. But I should start with what inspires me. Ever since my early childhood I had some very powerful feelings and experiences. Nature had a strong influence on me. Loved it. Loved the woods, rivers and lakes, gardens, the animal and plant kingdoms. I still do! I believe that Nature is Satan's Church. A place where you can learn much, where you can learn to see the Truth or maybe where you don't see the Truth but where all the Illusions slowly dissolve. The wild is a rough place, violent and unforgiving and in the same time calm and peaceful. It is alive and sincere, not like human nature and it's society that is a copied, cyclic pattern which is rotten and filthy.
I created since my early age for the same reason I create now – to see my own thoughts and feelings in front of my eyes, that come from an unknown source. Most of my artistic manifestations have no exterior influences. They just come from my Subconscious. Basically, most of the things I materialize on paper are done for my own sake. I don't do this for anybody else. I can't explain this mechanism. It's probably working in the same way a bird is building it's nest.
The external factors, like music and books contributed only in small amounts and mostly on the way I work, the techniques and not the concept itself. And other external factors are a few artists. One of my favorites is THEODOR KITTELSEN. His work is amazing! I found out, after all these years that we were born on the same day. A strange coincidence from an artist that is my number 1, no?
Another favorite of mine is DENIS FORKAS KOSTROMITIN. He was not an influence, because I discovered him recently but I can surely identify myself in his artworks. This man has a special Spirit!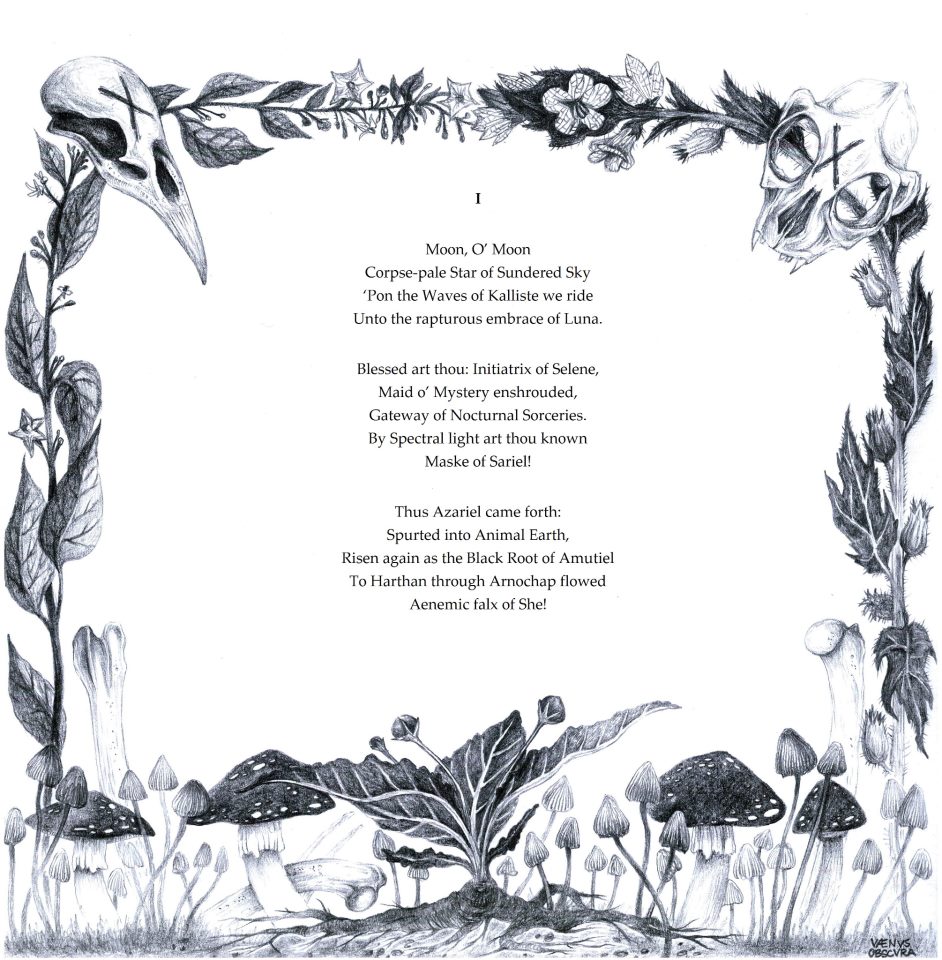 XA: What have been your experiences thus far when doing artwork for others, e.g. bands? How do you deal with the situation if someone tries to rip you off?
CM: I had nice experiences with bands and people I have worked with/for. The guys from TRIAL (Sweden) are really cool people and I enjoyed the collaboration. I will always be ready for them. Another memorable person to work with was JEREMY CHRISTNER from LUX FEROUS PRESS. His payment for my art was his art – Knowledge. This is what I enjoy working for rather than money that isn't much anyway but it seems that even that is a lot for some. Many think that art comes for free and that my services are something they can abuse.
I did logos, full front cover designs and many more for bands that in the end refused to pay. I had some situations that I had to wait for their payment for a year after doing them a logo, front cover and back cover for almost nothing. And they are not the only ones. What I can do in these cases is denying them the right to use my artwork and after that hopefully someone else will use it. Check out my blogs and you can read more about these cases there. The only thing I regret is that I can't send my fists through my emails to these bastards. So, this is one of the reasons I wanted to stop my artistic projects. But, no! I won't give up!
XA: Is your latest work, "As Wolves among sheep we have wandered", a pun on the black metal scene? And what's next after the wolf on top of evolution?
CM: "As Wolves Among Sheep We Have Wandered" has nothing to do with Black Metal. It is something more profound based on change that a person is going through in his life. Be it social or spiritual. The wolf is a well known symbol, an archetype, so is the sheep. Nothing comes after the wolf. I only posted this artwork as some sort of a preview of it. After it will be uploaded in HD and then broken down to individual pieces the message will be clearer.

XA: I like the style of As Wolves or your Rune Totems. There is a certain clarity in those, a fine combination of graphite drawing, ink and symbolic color use. In the first Totem picture ice melts with fire within the Thurs-rune. In the second the same rune is colored fiery red, flames arise from a broken skull and a sword burns with the fire of Múspell. Will the entire series be about the Thurs and can you tell a bit more about the context of these Totem drawings?
CM: The colors used there are the symbols of fire and ice, yes. In the first "Rune Totem" design I wanted to represent the forming of the Giant Ymir, when the ice of Nifelheim met the fires of Múspell. Both of them were the lands of the Thurs – fire Thurs and ice Thurs. Also, in the same picture the death of mankind is represented by the inverted Mannaz runes.
The second "Rune Totem" design is also about the Thurs, but this time it's Eggther in particular. The giant who joyfully sings on his own burial mound, knowing the coming of the inevitable Death of all things.
The whole series will be about the Thurs or other dark gods from the Germanic traditions. Although only 2 of them are finished, 5 more will be done and the series will be complete.
XA: You also sent me prints of the DRACO LOQVITVR series, which consists of a number of black and white illustrations inspired by the Demonic entities of the Goetia and the bone chapel of Kutna Hora, combining demon seal with realistic drawings of bones. Apart from looking decorative and being a nice addition to any wall, is there something more to these or do they really just 'speak for themselves'?
CM: I don't think that the "DRACO LOQVITVR" series would look nice just on any wall. The subject is dealing with the occult, the Divine. I bet that there would be a lot of people that wouldn't hang such things on their walls and after telling them that the designs are about Death, Demons, blasphemy, et cetera, they wouldn't want to hear another thing about them. Same happened to my teachers from the university. They were anything but excited when they examined them. And that's what I wanted to achieve in the first place. These weren't meant to be appreciated by anyone, just by a handful of people. I never liked or believed in art that was for everybody or for the masses. Artwork should upset the majority of people. It should be irritating. Yes, it is inspired by the Goetia and so am I. It is so fascinating and strong!
Just as this feeling touched me when I created DRACO LOQVITVR, this energy that was raw, unaltered by thought, this is how I would like the viewer to experience them. I guess they speak for themselves and nothing more needs to be said.
(Here I get interrupted and have to take care of orders…)
Second Part
XA: Apologies!
CM: No problem! I think it's good that a person is busy and has lots to do. This is my opinion, otherwise, having nothing to do and no schedule will make life boring and senseless. At least this is how I am.
XA: Thanks for your understanding! Now we have talked of art-schools and the way that teachers and normal people would look upon your work. You say art must be upsetting to the majority of people. However there is a growing amount of 'dark artists' out there and the internet has become a prolific place for all sorts of more or less interesting and/or provocative works called 'art'. In addition art seems to be flourishing in a way the world has not seen before. There are millions of artists and thousands of them are pretty damn good at drawing or painting etc. Is that something that you care about and how do you set yourself apart from those?
CM: I think that art must be upsetting for most people just as music should be. It's like MTV versus the Underground scene. That music circus, that garbage is for the majority, the herd. The Underground is for a select few who appreciate and truly cherish and polish those jewels. Or another example – tourism. Most people visiting a country will want to see the same old cheesy places but, a passionate traveler will chose the best places that are filth free, more organic and silent. They want a taste of culture. I believe it's the same with art. Art is not for everybody. It's never meant to be like that. I believe it must be like a punch in the face or a cold shower sometimes. I prefer to see the work of a war photographer than Communist influenced "art" like "Mother with her child" or "Still life with flowers", if you know what I mean…
I honestly don't care much about what is happening in this category. If there is something worthy, it will catch my attention. I don't want to point fingers or to criticize because I believe that those who are really passionate about art, be it "dark" or not, will eventually get their reward for what they did. I believe in hard work and passion and that is what sets one from another apart.
XA: On the other hand some galleries and art collectors seem to foster old hands and many talented youths may never be able to pursue an art career. E.g. I heard of Berlin galleries not acquiring new work because they rather rely on the works of already established artists, favoring known over unknown names. How is it in Romania?
CM: I am so glad that you asked this question! In Romania it's the same. The answer is in the question you asked here. I had my exhibition not long ago and guess how many of my teachers showed up? None! And because of these old farts the youth have no chance. Do you know what they sell in those art galleries of theirs? Garbage! Imagine, a simple, plain crucifix for an absurd price. Why? Because it has the brand of the place and the artist?! This disgusts me. Can't believe that Berlin has the same problem also!
Why is a teacher considering his student competition? Shouldn't they be proud of their learners achievements?
XA: Hence it is nice to see photos from your recent exhibition on your blog! Perhaps this is a sign that young talents like yourself will know to help themselves and make old ones soon look even older… Which brings us to the end of this interview and the question, what is next?
CM: It is wonderful! I am so happy and satisfied! All I have to say for those young talents is that they should never ever give up. Hard work is the best solution for everything. And please support each other! What is next? I don't know but, I can tell you that the blood and the sweat is the way to go.
XA: In any case I wish you the best of luck and success! Last question, considering the many possibilities in this digital age, do you still draw by hand or what techniques do you use for creating your images?
CM: Thank you! Everything I draw is ink or graphite. I rarely use Photoshop. And especially the bones, they are 100% ink.
XA: Thank you for taking the time to answer my questions and greetings to Romania…
CM: Thank you also! It's been a pleasure and thanks for this opportunity! May you harvest the Fruits from the Tree and let the others gather the rotten ones from the ground!
Interview given to Teufelskunst, September/October 2012
Answers and pictures © CM Vaenvs Obscvra. All rights reserved.
October 13, 2012
Posted In: Herbs & Seeds, Art, Ritual, Interviews
Tags: exhibitions, runes, totems, vaenvs obscvra