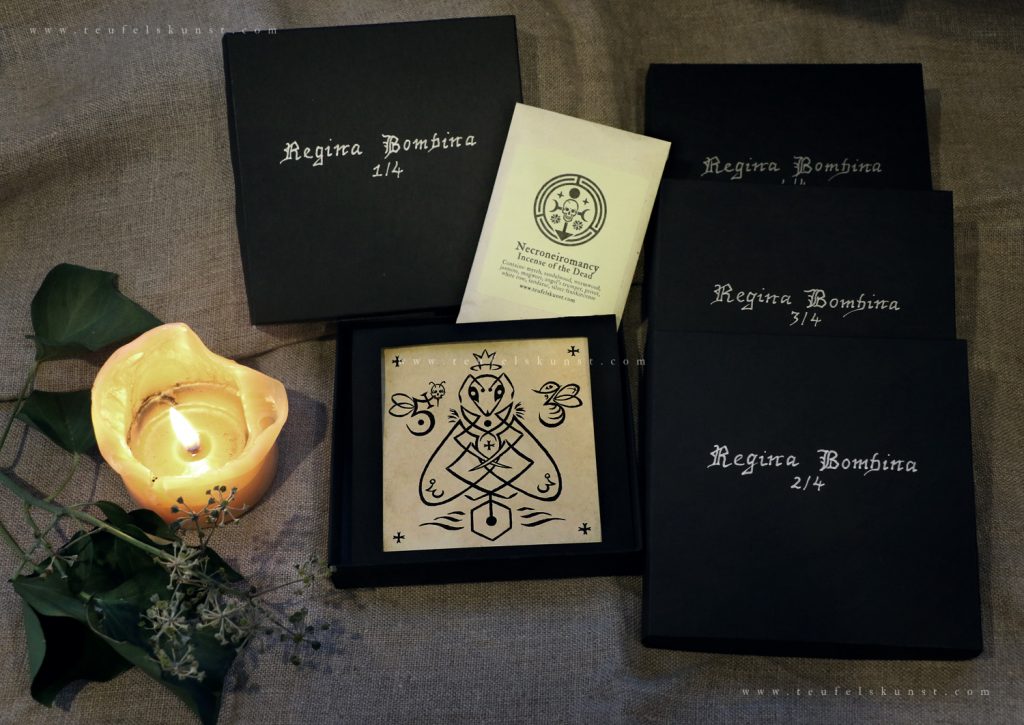 This is the first work in the "Sigilla Magica" series representing an 'animal' spirit. In this sigil I combine mythology and folklore connected to the honey bee and pollinators in general.
In ancient Cretan civilization the honey bee was part of religious worship and priestesses, the "melissae" were named after it. There are depictions of half human, half bee-shaped spirits and fertility goddesses, hinting at an ancient bee and honey cult. The art of bee keeping was viewed as sacred. Bees were believed to have fed the infant Zeus in the Diktaean cave on Crete. On the other hand bees were also connected to the underworld and the dead, since bees would inhabit crevices in rocks and caves and the bodies of kings and other important persons were embalmed in honey. In Asia existed the practice of preserving the dead in honey for a year and then eating the honey. One superstition holds, bees were (along with lizards and snakes) carriers of ill omen and the evil eye. Hence amulets with beheaded bees were worn to ward off the evil eye.
Since I foster an own witch garden, it was only logical to create an atavistic artwork for the spiritual essence that connects all the insects, which pollinate my plants. After a visit to Crete and the archaeological museum in Iraklion, as well as reading Hilda M. Ransoms book "The Sacred Bee", I felt all the more inspired to create small talismanic works with my own take on the topic. The sigil itself though is already a few years old and I originally titled it "Regina Bombina", a reference to the divine and royal nature of the bee.
In 2018 I created 4 drawings with ink on a coffee- and honey infused paper. The paper sigils are signed and dated on the back. They are mounted on a black cardboard passe-partout and come in a black cardboard box, which is signed and numbered. Along with the artwork you also receive a 30 ml bag of "Necroneiromancy" incense.
Artwork size: ca. 9 x 10 cm, passe-partout size: ca. 12 x 12 cm
4 available
November 21, 2018
Posted In: Art
Tags: sacred bee, animae, totems, bee cult, greek mythology, ancient, sigils, folklore, sigil art, regina bombina, sigilla magica, bumblebee, bee