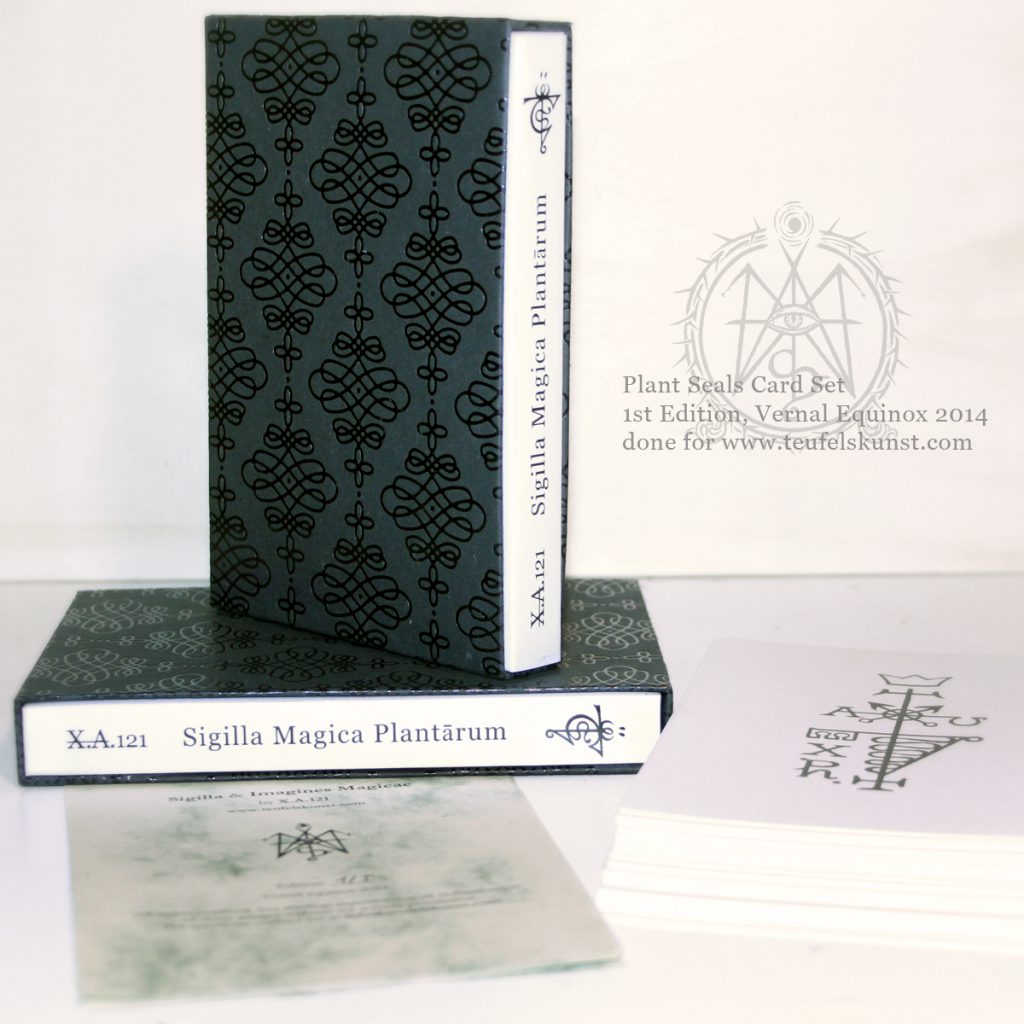 This is the first time that I am presenting my plant inspired sigil art in a comprehensive way – in the form of these cards. The sigils on them are wordless expressions of subjective impressions from the plants I work with in my garden and surroundings. Their main purpose is to serve as a visual focus and starting point for contemplation and meditation.
Each card carries the signature of one herb and is hand-numbered on the back. By comparing the number with the accompanying list you find the name of the corresponding herb. The first 22 cards are inspired by potentially venific herbs. The next 16 cards carry seals of traditional healing herbs. They are complimented by 6 further cards, which are inspired by herbs of Meso-American culture and one 'Joker' card, represented by the High John the Conqueror root. All herbs are of relevance to different sorcerous lines of practice.
The first 22 cards could also be compared to the Major Arcana of Western tarot, even though that was not my initial intent. And whilst it may suggest itself, comparing these to existing divination systems is misleading as that was not the original impulse for these images.
Part of the motivation behind these abstract depictions is to go beyond the attributions given in magical correspondence tables and written lore and to find new forms of expression. Each 'sigil' is the summary of my memories connected to these herbs and condensed into simple line drawings, which are loaded with symbolism. However, what is drawn up in about 20 minutes is the result of a much longer and work-intensive process: I study the plants in different ways, reading, photographing, drawing and writing about them as well as gathering first-hand experiences by sowing and growing and thus observing the plant in all stages, from seed to harvest. This is the task I set up for myself and it is one not always possible to accomplish. But I am getting closer each day, always learning something new about the kingdom plantae.
Making sigils for plants and their spirits, or devas, has been done before. But I don't think it's been done in the way that I am doing it and I have already received some very positive feedback: When I showed these cards for the first time to a live audience in London, people would pick out their favorite card and riddle and guess the plant in question. New aspects and meanings were found in these images that I myself had not been aware of. This way the cards became a basis for inspired conversation.
So sit down with your witch friends, take out this card set, sort them or shuffle them and lay them out before you. Let each draw a random card and start brainstorming. Get your herbal book out and read up on the herb you picked and contemplate in which way its characteristics could be of relevance to yourself or your current life situation… There are no limits to how these cards can be consulted and I hope and wish that people find their own ways to utilize them.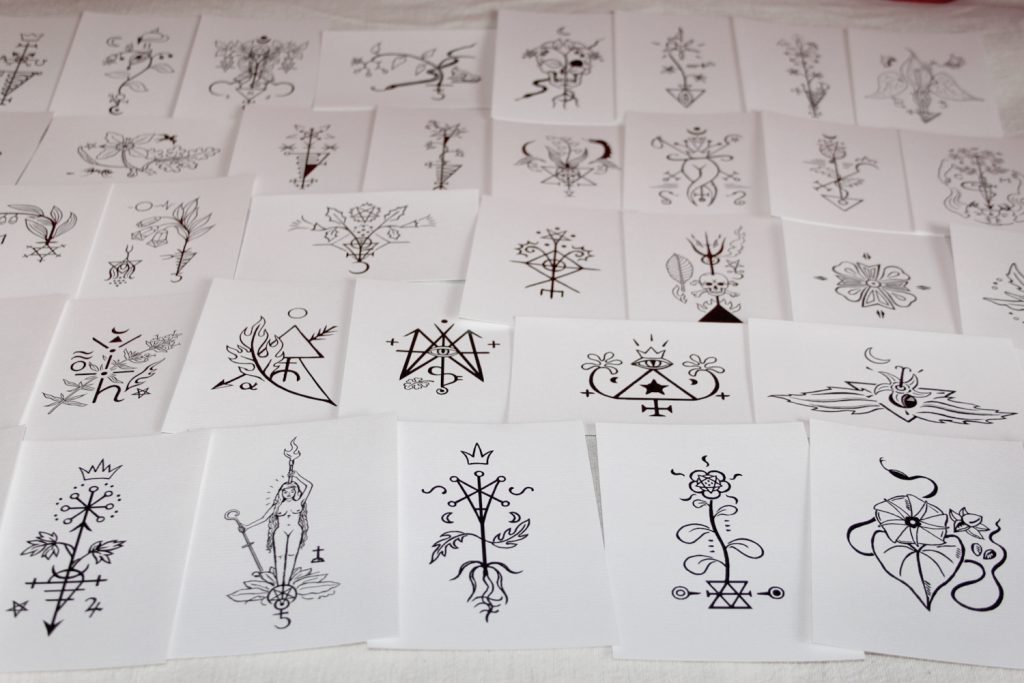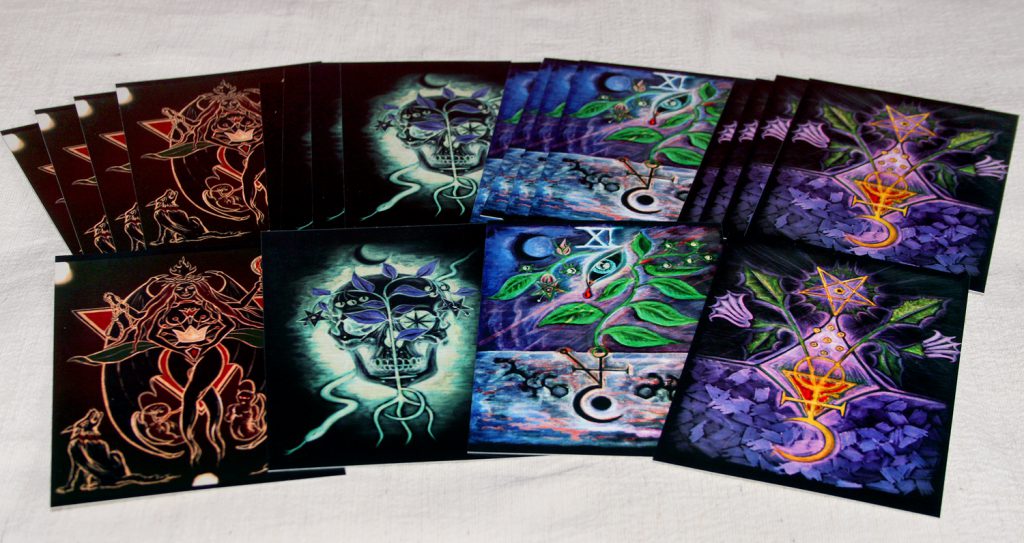 Finally a note on the four colored cards that come as an extra with this set: these are paintings based on the seals for Belladonna, Black Nightshade, Thorn-Apple and Mandrake, which have been composed with corresponding plant saps or extracts, blood and red wine. On the cards you are being presented inverse versions of the original paintings. The process behind these is always intense as it is a very direct way of approaching the herbs in question. The resulting paintings feel real and powerful, especially since they are still undergoing transformation as they age and the pigments change in color.
This set may be expanded in the future, as there are many more plants I am exploring. But for the time being, I hope that this first illustre gathering will be a joy to explore for the one who owns it.
Yours,
X.A.121/W.
March 21, 2014
Posted In: Prints, Pflanzenkunst, Art, Feast Days
Tags: limited editions, card decks, plant sigils, prints, sigilla magica plantarum, cards, art, sigil art, sigilla magica, spring equinox, vernal equinox