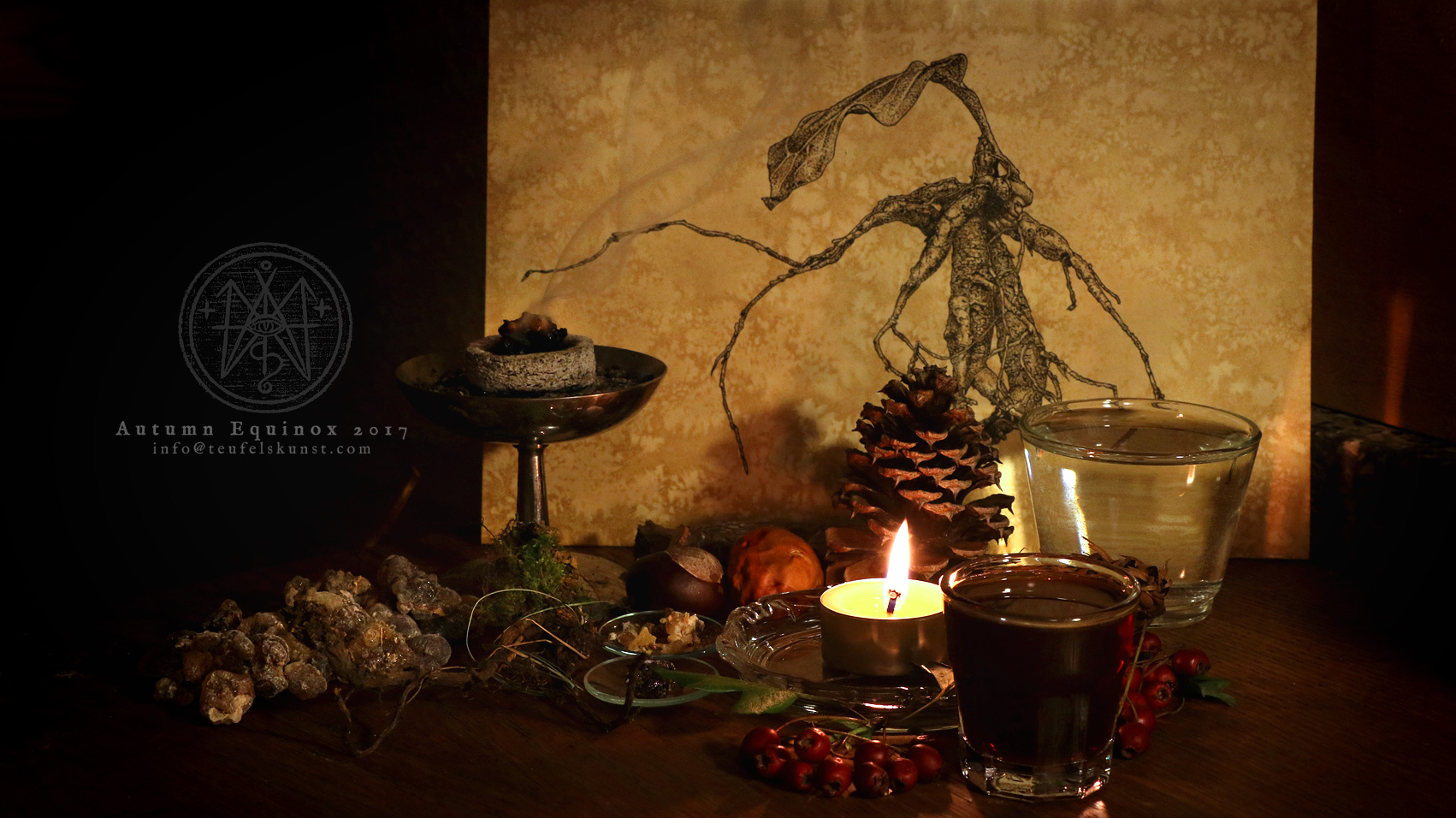 As I am typing this, the candle has already extinguished and there are nearly as many tiny air bubbles in the glass of water as dots on the ink drawing in the background.
My little fall equinox altar is made of tokens gathered during the past days. It also features a small glass of self-made hawthorn liqueur. The hawthorn goddess was addressed for empowerment at a time when I am down with flu and need to recharge both physically as well as spiritually.
The drawing is one of three drawings I did last week. It is the second in the small series and titled "Pathfinder", since the shape reminded me of a creature equipped with plenty of sensors, which seems to be pushing forward against an icy storm. The third drawing is now in the possession of The Witching Veil, together with the autumn mandrake root depicted on it.
The incense burnt was the Black sacra from Luban Frankincense Supplier. It has a deeper, somewhat richer aroma than the green and white frankincense from Oman, and fits just perfectly for the season.
With the passing of the Fall Equinox, Samhain is just around the corner. I will hence begin preparing my presentation for this year's Samhain Celebration in Gotha, which I am attending for the second time in a row.
The latest addition to the shop will be new autumn mandrake roots, which will go up for sale in the evening. Please also take a look at the new listings in the Sigilla Magica category.
Last but not least I thank all of you, who ordered my Dog Days incense. I have but one jar each left. The coming days I will work on new batches of Samhain incense, as well as restocking incense for Qayin and Lilith.
September 23, 2017
Posted In: Ritual, News & Site Updates, Feast Days
Tags: mandrake project, ritual, fall equinox, incense, shop news, Mandrake, black mandrake, altar, autumn mandrake, autumn equinox, mandragora autumnalis, alraune, ink drawing, botanical studies, plant art, frankincense oman, art, the witching veil, ink