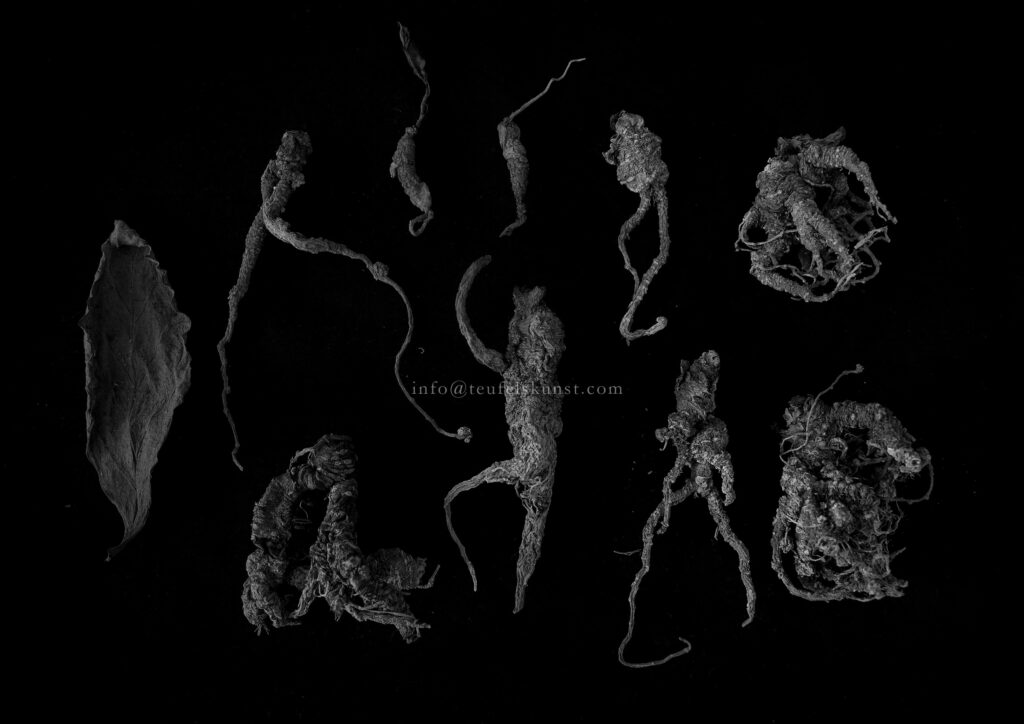 Upon request, I am offering here some dried mandrake roots, which I have grown and harvested over the past years. For reference, the leave is ca 12 cm long. These roots are talismans. They are not meant to be made into incense. They can be oiled and/or fed with traditional offerings, such as red wine, milk and honey, herbal essences, bread, incense or tobacco smoke, coins, stones etc. If you purchase one, you agree to stay in touch about your work with the root. I am happy to give you guidance and set up a ritual practice with you based on your personal magical background.
Pricing from top left to bottom right:
93 € top left – sold
prices for the 2 small roots are negotiable (they are suitable to wear in a glass amulet with other herbs – a custom amulet can be made for you) – sold
83 € top second from right
111 € top right – sold
88 € bottom left – sold
center – sold
108 € bottom second from right – sold
131 € bottom right – reserved
Handdrawn mandrake root phytographs can be purchased along with the roots and start at 100 € per phytograph. If you commission a phytograph together with the root I will give 10% discount.
August 23, 2023
Posted In: Herbs & Seeds, Ritual
Tags: alraune, mandragora officinarum, mandrake project, mandragora, mandrakins, talismans, Mandrake, roots