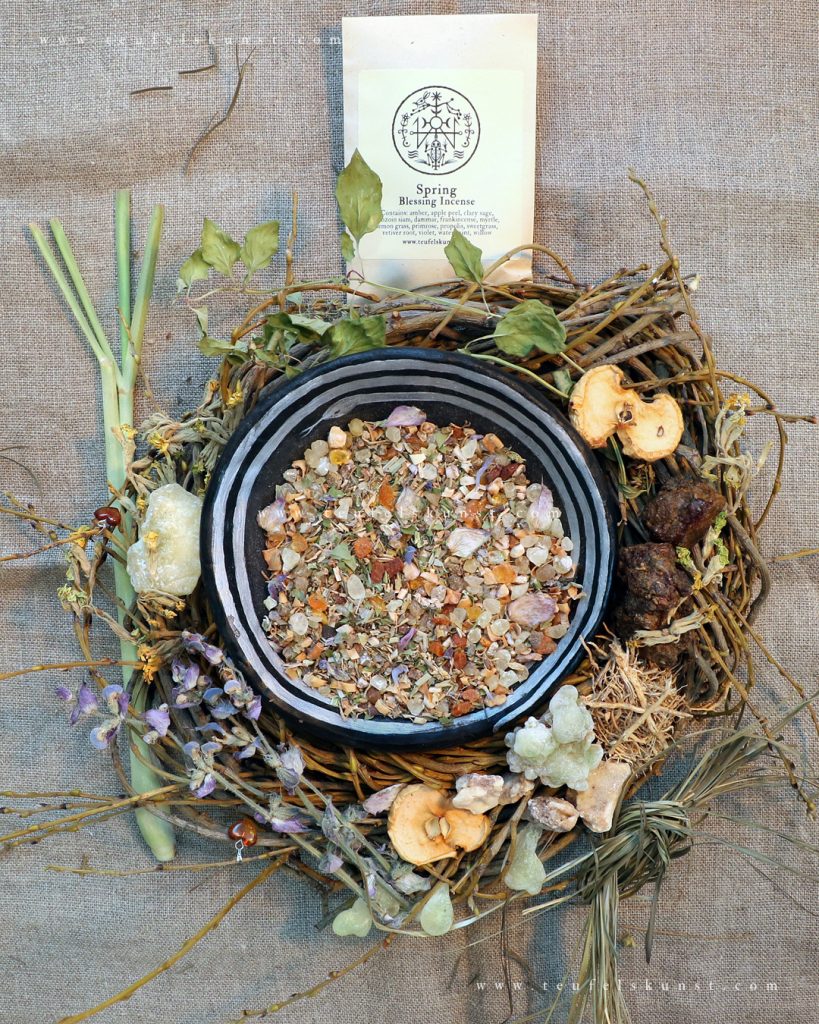 It has been a cold, mostly rainy and busy start into 2019, but suddenly spring is here! And what I had started a year ago with the – somewhat random – introduction of the "Blessing Seal of Spring", has now evolved, and sees a new manifestation with the completion of my "Spring Blessing" incense!
As temperatures rose to 17 °C today and the sun warmed up the city unhindered, I could feel the excitement and eagerness in the air and with the birds around our place. So I am happy to present you this new incense blend!
This brand-new Teufelskunst creation is dedicated all to the rituals of spring, including the celebration of the Vernal Equinox, Easter, the Roman Veneralia and leading up to Beltane. It smells pleasantly sweet and spicy, thanks to fragrant and traditionally spring related ingredients, such as clary sage, dammar, lemon grass, myrtle, violets and sweetgrass. In addition, yellow flowering primrose and amber resin evoke the sun and fire. The return of the vegetation, and pollinators along with it, is honored with precious bee propolis, which adds a warm and earthy aroma. For fertility spells and referencing the very essence of Venus, the blend contains further aromatic apple peels from our own apple tree. Water mint and willow both connect this blend to the element water, evoking Batrachian and ophidian currents.
The old Irish Beltaine is derived from common Celtic *belo-te(p)niâ, meaning "bright fire". Fire is often part of spring and May Day celebrations, e.g. for cleansing (burning) the old and making way for the new or as a primitive reference to the return of the sun.
Uses: love & fertility spells, blessing rituals, luck, prosperity, dream, veneration of beloved spirits
Contains: Baltic amber, apple peel, benzoin Siam, clary sage, dammar, frankincense, lemon grass, myrtle, primrose, propolis, sweetgrass, vetiver root, violet, water mint, willow bark
Scent: warm, sweet, spicy
Colors: green, yellow, white, purple
February 15, 2019
Posted In: Incense, Feast Days
Tags: veneralia, ritual, easter, incense, beltane, divination & dream, equinox, ritual incense, spring equinox, vernal equinox, incense blends, fertility, blessing, prosperity, feast days, spring, the blessing seal of spring